PULLING PAPERS
The archive is currently cataloguing the Pulling Papers. William Pulling and Sons were spirit, wine and cider merchants and distillers of gin in Hereford. The company operated between 1813 and 1978. About ten boxes of receipts, orders, letters, account books and other papers were donated to the archive when the company was sold to Tanners the wine merchants in 1978. These papers contain a wealth of detail about life in Hereford for a prosperous family and about the drinks trade in Wales and the Marches. Though only about one tenth has been catalogued so far the list is available here in .pdf form and maybe useful for people researching 19th century life in Hereford and Wales.
Click here to access the Pulling Papers catalogue.
If you would like to help in the big task of cleaning and cataloguing these important documents please get in touch via the volunteer page.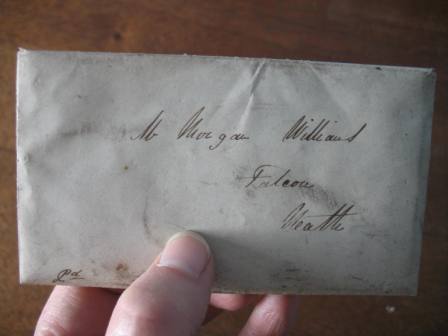 Letter dated 1845 folded into envelope with seal on reverse, to Mr Morgan Williams of the Falcon Inn, Neath
Enquiries About the Archive Volunteers