pomona herefordiensis

Archive of Cider Pomology Home

Pomona Herefordiensis

Herefordshire Year in the Orchard is a way for all of us to celebrate and enjoy the County's unique orchard heritage and the people that have and still are making it a very special "County of Orchards"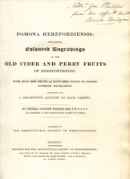 The resource box below will allow you to explore the unique and wonderful world of Apples and Pears as portrayed by Thomas Andrew Knight in his Pomona Herefordiensis, first published in 1811. All thirty of the varieties are beautifully illustrated by hand-coloured plates with Knight's own description and notes to accompany them.
Copies of this and other Pomonas are on display in Hereford Cider Museum and are available on a special CD-ROM available from the Marcher Apple Network (see link to website below).
The following PDF documents are scans from an original Pomona Herefordiensis by Thomas Andrew Knight. They include the descriptive page and the hand-coloured illustration. Enjoy!
Redstreak (I)
Golden Pippin (II)
Red Must (IV)
Hagloe Crab (V)
Loan Pearmain (VI)
Grange Apple (VII)
Orange Pippin (VIII)
Downton Pippin (IX
Woodcock (X)
Oldfield Pear (XI)
Forest Stire (XII)
Teinton Squash Pear (XIII)
Foxley Apple (XIV)
Pawsan (XV)
Best Bache (XVI)
Yellow Elliot (XVII)(
Longland Pear (XVIII)
Old Quining (XIX)
Holmore Pear (XX)
Bennett Apple (XXI)
Golden Harvey or Brandy Apple (XXII)
Siberian Crab (XXIII)
Huffcap Pear (XXIV)
Stead's Kernel (XXV)
Garter Apple (XXVIU)
Barland Pear (XXVII)
Cowarne Red (XXVIII)
Old Pearmain (XXIX)
The Friar (XXX)
Archive of Cider Pomology Home